DW Motivation - time to come clean - a grandson's rerun
By Matthew and Tim Fletcher
Time to come clean a bit, and be honest about what made us attempt DW.
When Tim and I started paddling at Richmond last summer it was with the sole intention of preparing for this the 2006 DW event. Our Grandfather, Morris Nicol, had taken part in the original race back in 1947 and we wanted to emulate his experience. That year the trip was from Devizes to Christchurch and was the result of a bet that had been made in a pub in Pewsey. The elderly generation believing that the 'youth of today' were useless and could not complete the trip with a skiff in less than 4 days. The younger generation went on to complete the trip, and win their bet, with a 4 man crew that included our grandfather and his twin brother. The following year the destination was changed to Westminster and DW proper was born.
Unfortunately both my grandfather and his twin have passed away, but our support crew for the race included their wives (both now in their 80s), their 4 daughters, 1 grandson and 2 of their great-grandchildren. All of whom are thrilled to have relived the old man's journey.
Unfortunately Tim had to pull out of the DW after injurying his back on Waterside D, but Neil McLeod stood in and ensured the trip was still possible.
Many thanks to Peter Barnes and the others at Richmond CC for making the trip possible.
Matthew and Tim Fletcher.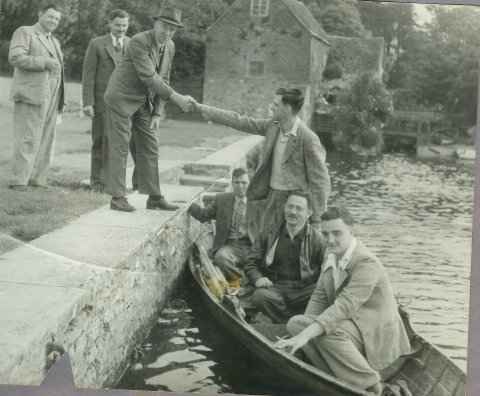 Photo from the 1947 trip. Canoeing fashions have moved on a little….
Left to right Standing: Roy Cooke [support], Mayor of Christchurch [on shore].
Boat Crew: Morris Nicol, Bob Nicol [standing], Brad Cooke, Geoff Kunkler.