Richmond's Spanish River Summer
By Henry Hendron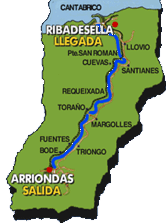 Richmond saw five of paddlers head out to Spain over the summer to take part in the famous Spanish racing series.
First up the renowned international Sella Descent. This 20K course runs from Arriondas to Ribadesella in the north of Spain. The water itself is always very shallow and rocky, but it comes with flow and some minor rapids. Canoeists take over the town for the Sella, and the race is a huge event in the start and finish towns, with opening ceremonies, processions and thousands of people who come to watch and celebrate the festival of the river. Canoing is a huge sport in this part of Spain, and the attention paid to the sport from non-canoeists is unlike anywhere else.
The start is by far the most chaotic part of the race. With each padder being lined up on the rocky forshore, according to their number, standing 10 feet away from their boats. Paddles are locked in gates to prevent an early start by the over keen, and opened en masse when the traffic lights turn green and the starter – usually the Mayor – screams 'Go'. When the light goes, all hell breaks loose as hundreds of paddlers, crammed close together, run for their boats. In these early seconds, it's as close as you will come to everyman for himself and dog eat dog. The scene is of shoving, pushing, swearing, deliberate foul play, aggression et al. The trick is to get away as quickly as possible and leave the chasing pack behind – some paddlers choose to do this by running the first few hundred yards.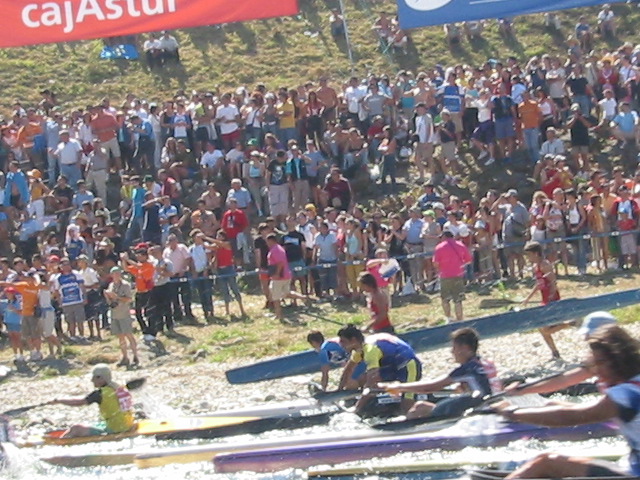 The Richmond team for this race comprised of Richard Hendron and Jorden Mungovan racing Senior K2, with Richard stroking. Despite being the cause of much grief, they left it pretty much all in the wake, and successfully completed the course unscathed to finish 101 overall and 42nd in the Mens Senior Class, with a time of 1:34:10.
Racing Mens Senior K1, Troy Squires, had a good paddle, to come in as the second fastest Richmond boat in a time of 1:41:26, placing him 148th overall and 50th in the Mens Senior K1 class, although he only narrowly crossed the line ahead of fellow Richmond paddler Henry Hendron, who despite using an under stern rudder and having no foot rest from the start, and being the victim of a deliberate capsize from a competitive Spanaird he was overtaking, came in 11 seconds behind Troy with a time of 1:41:37 placing him 152th overall and 53rd in the Mens Senior Class.
Representing Richmond in the Junior Boys class, Oli Simms, took part in his first descent race. Only recently promoted to Div 2, and not overly familiar with the rough tactics of marathon racing that feature especially in Spanish Kayaking, Oli became a regular in the water, seeming to involve himself in numerous pileups and confrontations, to which he often came out the worst, with over 6 separate swims!! Despite the swims Oli finished 240 overall and 20th in the Junior K1 Class, with a time of 1:52:18.
Next came the K4 race. This race is a aprox 10k, which is a circuit around the finish of the Sella. The Richmond Paddler's were scattered amongst a collection of GB boats with one (Troy) residing in the South African team boat for the race. The official Spanish results do not exactly accord with the recollection of the events and placing's of the actual day. For instance, Richards boat, to on-looker's came in a close 5 , narrowly missing out on 4th by under a second, In Mens Senior, but with several boat lengths until the next, the results seem to have found another boats (Spanish) which pushed them into 6th position with a time of 35:21. The next Richmond Paddler in was Troy, although racing for SA, most of his boat has been spotted frequently training at Richmond! Troy's boat finished 11th with a time of 36:55. Following Troy, Jorden, having linked up with what looked like fast Italian paddlers (they had all the gear), thought he was in for a fast pace, only to be slightly disappointed by being let down by Italy to finished last with a time of 38:30.
Henry who was stroking his K4, with Oli Sims in the back and two other Brits, got disqualified at trying to play by the Spanish rules of racing!!
The Richmond paddlers also took part in the Nalón. This is an ascent-descent race, paddling about 8k down and then 8k back up. The river and start is similar to the Sella, with the water on the Nalón even shallower. Richard Hendron/ Jorden Mungovan racing Mens Senior K2 slugged it out to finish 10th in K2 class with a time of 1:59:21. Henry Hendron, whose rudder fell off during the race, finished 14th in Mens K1, with a time of 2:00:54, and Oli Sims, now racing Mens Senior K1 trailed in just behind Henry at 2:02:43, finishing 16th.
Overall, while the Richmond team didn't produce dazzling results, (and probably wouldn't have been allowed to under Spanish rules!), this can in part be put down to inadequate boats, and in some cases to many ciders!
We did however give a respectable performance, and apart from one other British canoe club, Richmond Canoe Club was the largest club delegation from the UK. Perhaps a hopeful sign of Richmond's return to competitive marathon racing.
Fancy taking part?
Sella Descent Website - www.descensodelsella.com
Details about the Nalón can be found on the same website. Races are scheduled to run at the same time of year if you're travelling that way.