Dash Hounds / Hare & Hounds - Race 4
A New Year and another race in the Dash Hound / Hare & Hound series – Race 4 and, as usual, a good laugh. The water was glassy calm which provided some stunning images of boats and their reflection – hope someone was taking photos. One or two paddlers were maybe lacking a little in fitness after the Christmas break but it was another very good turnout.
The conditions were perfect (but that might depend on your point of view). We were treated to a cloudless sky, bright sunshine and no wind. Older members of the club continue to be bemused by young people who turn up in t-shirts and take little notice of the cold, at least at first. First thing the temperature was minus three degrees but it soon crept up to about plus three – positively balmy.
Some younger paddlers set about scraping the frost from their boats, one crew even bought some de-icer – their primary concern being whether they could tape a duck to the front of their boat.
In the shorter Dash Hound event there were some excellent performances with many kayakers putting in a personal best time (PB) and a few others only a whisker outside.
In the U10F Rosie put in a great performance 45:44 (PB – 4 minutes under her previous time!). in the U12F Richmond took the top three places – Ellie (joint first overall with a time of 33:59 - 11 minutes below her previous PB, what did she have for breakfast?), Alice (36:58 PB)and Anoushka. Rhiannon (43:59 PB) came in fifth and Jojo (50:10 PB) put in a huge effort to beat one of the boys in the last few minutes of the race. In the U12M Mario (a newcomer to the club) came first with Freddy (39:27 PB) a little way behind in fourth place.
In the U14 classes Richmond took first three places in both boys and girls – Archie (39:12 more than seven minutes inside his previous PB), Kieran (40:41 PB), Daniel (41:43 PB) with Max in fifth (43:27 PB); for the girls – Mia (37:23 PB), Alia (38:45) and Milly (41:06 only a few seconds outside her PB). Annabelle & Scarlett put in another good performance (minus duck) with a time of 40:37. Caroline & Becky continued their dominance over the Doug & Hannah pairing.
Some superb performances – well done.
So, on to the Hare & Hound results. For the juniors Sophie came second in the U16F with her first sub-60 minute time (59:34). Emily (JF) whizzed round in 51:24 as did Renee (U12F) in 52:41 (just three seconds outside her PB). Isaac and Fred were 2nd and 5th in the U16M and Alex and Jake 1st and 4th in U14M. In the C1 trials Nick and James were 3rd and 4th in the JM class and Ben putting in a steady performance in the U14M group – a sole contender.
Among the adults was Susie, in her first race, clearly delivering some oomph behind Euan since their time of 57:49 was 2 minutes faster than Euan in his previous solo run. Harvey & Matt did well to get round in their Stiletto given that the waves found their way to the unplugged pump hole on the deck. Klaudia & Martin were pleased with their times of 52:26 notwithstanding on course contretemps with Geoff & Rob, and, knocking Mike in at the portage.
Peter & Jorg had secret ambitions to beat the Coralie & Ian time of H&H 3. But it was not to be - not having been a boat together since early last summer we failed to find any synergy until the tight bends near the top turn. But having found the X factor we did motor past lots of boats (including Jemima & Roger!) on the return. Nick & Nick improved again to do 53:32, Jeff & Warren did well in 55:47.
Ian Sepion survived the rough conditions in a Tor; Sue Middlehurst did not have the dream run of her previous outing. Karen got through determinedly, possibly still suffering post traumatic stress disorder following last week's capsize?
As usual superb support from Tim and Sue – thanks, as usual, to parents and helpers for their support.
Peter Barnes & Jeff Lindsay
---
Hare & Hounds Two
The second in the Dash Hound / Hare & Hound series took place on Sunday 27th November. The weather forecast the night before seemed quite promising – a grey start but sun to follow. First thing, the skies were steely grey and heavy showers were also part of the mix. But the forecasters were spot on and by about 8.30 the sun began to emerge. By the time the Dash Hound was due to start at 10.15 the sky was clear and brilliant blue. There was some wind to contend with but the river was clear of leaves (always a pain) and fisherman (!).
There were nineteen Richmond entrants in total for the Dash – another Richmond vs Wey tussle was on the cards and, well, RIC came out on top!
In C1, Adrian Miekle-Briggs came first a long way ahead of the rest of the field. Georgia Phillips came in second. Jessica Williams did very well following a capsize at a point where there were walls either side but, with a little help, clambered back in and carried on to the end.
In the K1 event RIC took the first five places. Excellent performances from Ellie Tompkins and Alice Buckley (both in U12F) taking 1st and 2nd places, and Lily Wong coming in 4th overall (and 3rd in the U12F class). Also, in U12F were Rhiannon O'Connor, Jojo Gill, and, in her first event, Isabella Bowles (don't think she has ever paddled continuously for almost an hour – well done!).
In U14F Mia Monahan came 1st (3rd overall) while in U12M Christian Olsen came 1st (5th overall) – strong and confident performances from both of them. Also in the U12M Matteo Garrita put in a very good effort.
In U14M there were spirited efforts from Kieran Young, Daniel Titherington (particularly lively – not sure what he had for breakfast) and Archie Fegent coming 1st, 2nd and 3rd in their class.
In U10F Rosie Morton was 2nd out of a field of six with Isobel Harrison 3rd , another first timer who paddled herself cheerfully around the course.
The Pembles were out in force in the K2 Dash – Becky & Caroline coming in 3rd with Hannah & Doug in 6th – really good effort from all four.
There were also seven juniors in the longer Hare & Hounds event. Alex Khlaf came 10th overall and in a very fast time – superb. Renee Myburgh was also quick around the course. Fred Schesk knocked over four minutes of his previous time, very impressive. Jake Bedford, Sophie Khlaf (overcoming new boat nerves), Oliver Khlaf and Kerry Lewis (portage problems) all put on a good show. A very impressive performance from all of the juniors.
And from the adults, Neil/Jemima were fastest (just) in 50:07 and not far behind was Andrei, making a comeback after a 25 year absence from paddling (in the Ukraine). Mike Foster, coming in at 51:45 improved his time by over a minute.
The K2 massive of Rob Hall/Geoff Duniam impressed with a time of 52:23, followed by Nic Cotton / Nick (NOT police Nick) Morton in 53:57, the same time as Marcus/Ben in a C2.
The Novice class of 2011 did well. Matt/Robin muscled their way around in 56:37, and, arguably even more impressive, were the laances of Euan and Nicole (both doing a faster time than Karen in the first race!)
Two junior coaches, Sue Middlehurst and Jeff Lindsay, showed that organising need not get in the way of racing, great. Thanks to Tim Middlehurst for transporting the majority of the boats, to Mick Fegent for co- managing the junior team and as usual, thanks to parents and helpers on the day. Third race in series Sunday 4th December.
Jeff Lindsay/ Peter Barnes
---
New Club Kit
The new kit page, where Richmond Canoe Club branded kit can be purchased on line via DiBi Sport is ending shortly.
You can access the Richmond page by visiting http://www.dibisport.co.uk/clubroom.php and search for richmond. Details for logging on are on the noticeboard at the club, or contact a Committee member.
---
Wey Dash and Hare & Hounds
Over 50 Richmond boats turned up at Wey Canoe Club for the start of the Hare and Hounds season on 6 Nov, making up around a quarter of the field.
Twenty nine juniors rocked up for the first Dash Race - based on the Hare & Hounds but with a shorter course with no portages specifically aimed at U14s who are not quite up to the full Hare and Hounds course, yet. It was a dull, chilly morning with only a slight breeze but autumn had truly arrived. The water had lost its warmth but gained in places some golden leaves. Poor Jessica Williams, who capsized at the start, can testify that the water is indeed cold.
You knew it was going to be an interesting morning when you are waiting on the start line and you overhear a couple who had just returned from their training session warning of a fishing competition ahead. As the paddlers wound their way up the course it was a choice of going around the line or under the very long rods. Of course, the fishermen were all very good natured so all was fine!
The Dash Hound consisted of 17 Richmond juniors – it was almost a Ric versus Wey event. So, how did they do?
In the U10F Rosie Morton came a creditable 3rd with Jojo Gill working as hard and as cheerfully as ever finishing a little further down the field.
Ellie Tompkins and Alice Buckley battled it out for 1st and 2nd places in the U12F. Christian Olsen was the only Richmond boy in the U12M coming a very good second place.
It was all Richmond girls in the U14F – Mia Monahan, Milly Morgan and Elena Garitta – coming 1st, 2nd and 3rd. In the U14M there was some Wey competition, four on four with a real tussle for places. Max Meuhler came 1st with Kieran Young, Daniel Titherington and Archie Fegent coming 3rd, 4th and 5th. James Morris was the only U16M and thoroughly enjoyed his first marathon race.
In the C1 event Georgia Phillips came 2nd followed by some brave efforts from Tania Yusef (knee problems) and Jessica Williams (by the end very cold).
Lily Wong and Anoushka Freeman came 2nd in the K2 race, only a small distance behind the two Wey boys.
Of the 109 boats that competed in the Hare and Hounds 28 of them were from Richmond.
There were 11 juniors - the C1 team of Nick Plaut, James Plaut , Ben Phillips and Marko Csokasi; and the K1s of Sophie Khlaf, Kerry Lewis and Renee Myburgh, Harry Burdon, Jake Bedford, Oliver Khlaf , and Fred Scheske, Renee flew around the course and broke the course record for her age group. The rest of the juniors managed to navigate the fishermen, the portage and half a dozen rowing boats and complete the race in respectable times and less than 60 minutes (except Fred who collided with another boat on one of the tight corners, fell in, and then spent time in some nettles before getting going again)
Laura Antalffy turned up too late to take part in the Dash Hound so volunteered to pull Sue Middlehurst around the course (Karen Edmond thanks Sue/Laura for an excellent wash all the way from the portage to the finish)
Dylan was fastest in senior in 49:12 closely followed by the green K2 massive of Jorg/Geoff Reading, and the red K2 Regina of Jemima/Roger. Will Flanagan (50:07), Marko C1 (50.19), Mike Foster (52:26), Andrei (53:20) were all pleased with good times.
Miscellaneous K2s: Nic/Oliver beat Peter/Nicole (only because rudder wire flipped off at return portage resulting in lost time?). Euan/Ellie in their first race won the RAF (retd) trophy in 61:30
Further good K1 results were Maggie (under 60 mins), Geoff (just over 60 mins), Jeff, Karen, Thomas, and Tanya.
All in all, a very successful day. As usual, thanks to parents, to helpers, and especially to Tim for trailer towing.
Sue Middlehurst / Peter Barnes/ Richard Hendron.
---
Avon - More Than Decent
There was a record entry at last weekend's Avon Descent with 23 Richmond paddlers turning out to paddle the 10 miles and face the five weirs. With the best weather, and possibly the least flow, the race has ever seen, all Richmond paddlers finished the course with boats and people intact, though not without obstacle.
In the K1 race Mike Lavarack finished 3rd without incident. In K2, Richard Hendron and James King were deprived of their trophy from last year, beaten to the podium by Richmond's Own Saffa team consisting of Paul Hayes and Gert Van Deventer, whose navigation down the course proved supreme to Hendron and King's, as the swimming photo below shows.
As well as the old timers, some new faces joined in the slightly quirky discipline of descent racing. Nick Romain teamed up with Lizzy Broughton finishing 9th with no swims. Juniors were out in force with Alex Khalf paddling with Isaac Blackman to successfully navigate the weirs to finish 18th. Emily Romain and Helen Taylor, were not so lucky with two swims but still completed the course, finishing 24th.
Mike Piggott and Klaudia Galucka finished 16th just beating Ian Blackman and Frazer Blackman to the line. Will Abson and Gaby Stevens took 19th – an impressive result for Gaby who only recently started paddling again, after injury. Henry Hendron and Freddie Purcell finished joint 7th. Old timer Sean Martin was back again, paddling with daughter Ali to win the touring class, while in the touring C2 class Mike Webb and Thor Harley finished first carrying the flag for the canoes at Richmond.
A great turn out for Richmond confirming RCC status as a rounded and diverse club. (Thanks to Richard Hendron for the report)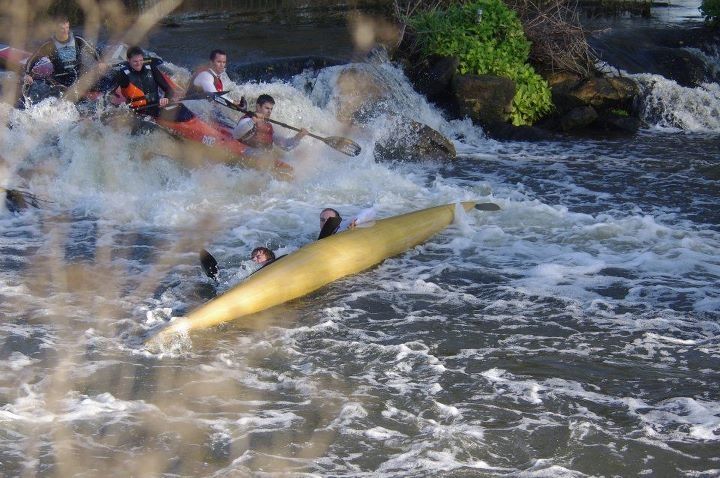 ---
World Championships Success
The international marathon racing season was brought to a close last weekend with the World Marathon Championships in Singapore. Two Richmond CC members were competing. It was the first time the championships were held in Asia, where the high temperatures and humidity proved particularly challenging.
Lizzie Broughton racing in the Senior Ladies Doubles with partner Fay Lamph (Wey), finished an incredible 4th position, narrowly missing out on a medal in their first senior worlds competition. The pair were looking extremely strong over the course of six laps and six portages (26km) breaking away at the start with the lead group of two Hungarian boats and a Spanish crew, paddling the entire race with them. With the last portage in the race only 600 metres from the Finish, and the front group came into the last portage together, it was clear that a decisive move could be made. Despite a strong run, Fay and Lizzie couldn't quite match the power and race experience of the other crews and struggled to find a good position to place their boat back in the water and were delayed leaving the pontoon, allowing the other crews to break away. They finished 30 seconds behind the winners, a Hungarian boat stroked by a ten time world champion.
Richard Hendron, was Richmond's second competitor paddling for Ireland in the Senior Mens K1 race. The startline of 40 boats included five previous world champions, leading to a very fast paced race. Paddling over seven laps of the course (30km), Richard pulled back a lot of ground in the last two laps to finish mid way through the field in 20th place, a successful end to a first season of international marathon racing.
Huge congratulations to Lizzie and Richard for putting up such great performances waving the shirt for Team GB, Ireland and Richmond CC. (And thanks to Richard for this report).

---
More Elmbridge Marathon Reports
You wait for a race report, and then two come along at once. A few more details on our Elmbridge performance.
Nick Romain won Div 3 and got promoted to Div 2 at 16 a just reward for his hard training and determination!!!
Div 5 promotion for Duncan Bates.
Div 7 promotion for Harvey Whiting who started this summer as an adult novice and was doing his very first race K1 race. Isaac Blackman and Alex Khalf winning Div 4 K2 by over a minute & half. Podium position (3rd) for Coralie & Ian in Div 5 K2 Podium position (3rd) for Peter Barnes & Geoff Reading (another novice doing his first race) in Div 6 K2.
Marcus Gohar & Ben Phillips won Div 8 leading to an immediate promotion. Podium position (3rd) for Nicole Prenderville and Vicky Waller in Div 9 for whom it was the very first race after joining the adult novice programme only a couple months ago.
We had 24 adults taking part in the race and the strength of both adults and junior combined meant that Richmond finished second in the Hasler points behind Elmbridge.
---
Richmond juniors out in force at Elmbridge
Richmond juniors were out in force at Elmbridge last weekend (9th October). It was a successful and, just as importantly, a fun day. As well as some experienced paddlers - they must have had at least five or six races by now – there were lots of first-timers. The sun was out, a gentle breeze and the waters were calm.
In the special Beginner Race RCC made up more than half the field. Daniel Titherington came first followed by some good performances from Matteo Garitta, Louis Kemsley, Elena Garitta, Georgia Phillips, Anoushka Barnett, Jessica Williams and Dillon Hackett. Well done to you all!
In the Girls U12 Lily Wong paddled hard coming third in her race. Rosie Morton and Jojo Gill did superbly taking first and second places in the Girls U10.
In the divisions there were many good junior performances. In Div 6 Harry Burdon came fifth (in a field of 20) only four minutes behind the winner – promotion beckons. In Div 7 Fred Scheske also came fifth (out of 19) again only a few minutes behind the winner - in fact Fred was officially a Div 8 paddler but his efforts in this race resulted in promotion, so he is now "real Div 7" (don't ask).
Ellie Tomkins (8 th) and Jake Bedford (17 th) put in really good efforts in Div 8. In Div 9 Alice Buckley and Chloe Morton performed brilliantly gaining 7 th and 9 th places from a field of 29.
In K2 races Kerry Lewis and Sophie Khlaf finished 3 rd in Div 7 (Sophie gained promotion to this division) and Alia Barakzai and Mia Monahan went from strength to strength finishing 2 nd in Div 9.
A fantastic day of paddling with good efforts from all. And finally, t hanks to Tim for getting us all organised and transporting the boats. Thanks also to the many helpers both on and off the water.
Thanks to Jeff Lindsay for the race report.
---
Liffey... decent
There was another big turn out from Richmond Canoe Club at the 2011 Liffey Descent. Ten boats travelled out to Dublin and a good flow of water was released following the postponement the previous month. Somehow this managed to make the field stronger than usual with top 10 times notably quicker than in previous years.
Likened to the Grand National where anything and everything can and does happen, Richmond's runners and riders were well primed. Irvine and Murray had some unfinished business to attend to and the Hendron and King boat were hoping to continue on with their successful partnership.
The start seemed less chaotic than in previous years but still far from the orderly procession of a sprint start. Dave Maritz representing Richmond in the K1 class got caught out of position and missed his window and possibly a podium place. Not far off from the start is the first of the hurdles. If the Liffey is to be compared to the Grand National, Straffan would be the Becher's Brook seeing more carnage than most other weirs combined. Thankfully most of the Richmond crew negotiated it with ease. The Irish commentator's voice blaring over the loud speakers only served to increase anxiety levels.
Next up was our commodore's back garden and as Sean and Alison Martin descended Templemills the banks erupted into a roar of cheers. This was Sean's 31st Liffey and he clearly has a huge following!
Lucan always seems to attract quite a few spectators and this year was no different. The Hendron/Hayes combination did their very best to provide the entertainment managing to take somewhat of a direct route down the face resulting in a face lift to their pony but remaining mounted to the very last. With much ingenuity she was nursed home.
The rest of the race went without much incident until Palmerston and Wren's Nest which are probably the 2nd and 3rd most tricky weirs of the race. One or two swims were had to cool weary paddlers and then it was a sprint to the finish and the 1st of several Guinness.
The final standings were as follows:
Place

Class

Time

Race No

Name

Surname

3

Senior Racing Kayak Doubles K2

01:57:20

501

Brett

Irvine

3

Senior Racing Kayak Doubles K2

01:57:20

501

Kenlea

Murray

9

Senior Racing Kayak Doubles K2

02:01:27

505

James

King

9

Senior Racing Kayak Doubles K2

02:01:27

505

Richard

Hendron

16

Senior Racing Kayak Doubles K2

02:10:27

508

Mike

Rees-Clark

16

Senior Racing Kayak Doubles K2

02:10:27

508

Michael

Lavarack

20

Senior Racing Kayak Doubles K2

02:20:53

509

Robert

Poole

20

Senior Racing Kayak Doubles K2

02:20:53

509

Brendan

Stead

24

Senior Racing Kayak Doubles K2

02:41:05

504

Simon

Platt

24

Senior Racing Kayak Doubles K2

02:41:05

504

Gaby

Stevenson

25

Senior Racing Kayak Doubles K2

03:20:23

531

Henry

Hendron

25

Senior Racing Kayak Doubles K2

03:20:23

531

Paul

Hayes

4

Senior Racing Kayak Singles K1

02:20:03

256

David

Maritz

8

Masters Racing Kayak Singles K1

02:48:49

224

Peter

Hutchison

7

Senior Wild Water Racer

02:29:17

283

Michael

Pigott

5

Touring Kayak Doubles

02:19:42

714

S Martin

A Martin
Many thanks to all who made the race possible and especially to the Irish Canoe Union for putting on an old fashioned, no holds barred marathon race and managing the awesome amount of logistics those goes on behind the scenes.
Written by Paul Hayes (who also did an awesome job driving boats over in his home made trailer - thanks Paul)
---
Great River Race for Richmond Crew
Richmond turned out a fine crew for the 2011 Great River Race, producing a great performance. Congratulations to Catherine (Skipper) and the team. You're great.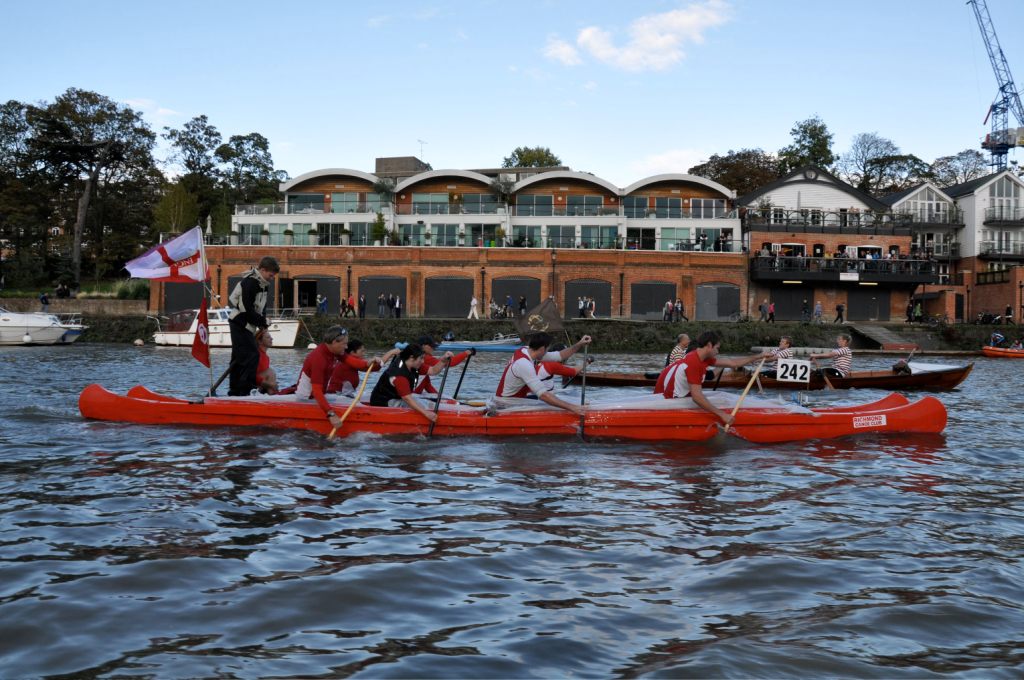 ---
---
British National Open Marathon Championships 2011
Richmond Canoe Club sent a team of kayakers and canoeists to the National Marathon Championships held in Worcester on the weekend of 27/28 August and returned with seven National Championship titles, eight first places, five seconds and two thirds.
Lizzie Broughton led the charge becoming senior ladies champion with partner Fay Lamph of Wey Canoe Club in the K2 race. This was followed by Marco Csokasi in the C1 U18 Male category. Next it was the turn of Rebecca Killip to win the U14 Ladies K1 before pairing up with Alison Martin for a convincing win in the U14 Ladies K2 race, the third year in row they have won this category, unprecedented in this race. Then came the junior boys, Alex Khalf winning the K2 U14 Men with partner Kayne Wilkinson from Elmbridge and Harry Wells winning the U12 Men K1.
Other notable results included Ellie Tomkins who came 2nd in the U12 Ladies K1 and took 1st place with Harry Wells in the U12 K2 Hody class; Lizzie Broughton took 2nd place in the Senior Ladies K1, Alison Martin was pipped on the line by K2 partner Rebecca Killip in the U14 Ladies K1, Marco Csokasi followed up his U18 win by finishing 2nd in the Senior Mens C1 race; Emily Romain with partner Emma Tonner came 3rd in the U18 Ladies K2 whilst Harry Wells got another medal in the U12 Junior Male race with Oliver Khalf by taking 2nd place ahead of Freddie Billinge and Ellie Tomkins.
Richard Hendron and Lizzie Broughton rounded off a fantastic weekend for the club when they took 1st place in the senior mixed doubles.
Overall the club finished with 466 points, placing them 5th place in the overall standings. Given the few paddlers that attended this was a noteworthy achievement and proves the quality of the paddlers who represent the club.
(Thanks to Tim Killip for the report and pictures. Full club results)
---
Richmond Canoe Club Hasler Marathon
It is with great sadness that we hear the body of William Carus was retrieved from the River Thames following a tragic accident on Sunday 31 July during Richmond Canoe Club's annual canoe and kayak marathon, an event in the British Canoe Union's Hasler Racing Series.
We are all deeply shocked and saddened by this very sad incident. Our thoughts are with William's family,
friends and fellow club members.
We will continue to help with investigations into this tragic event.
---
Tough Call for Olympic Champion Brabant
If ever proof were needed that even champion's can't rest on their laurels, Tim Brabants has been ousted from the K1 1000 metre Team GB seat by Paul Wycherley. Brabants was the first Briton to win a gold Olympic medal in a kayak discipline at Beijing.
It's not done and dusted yet with the final selection trials next year, but it'll be Wycherley in the K1 at London 2012 unless he has a drop in form or injury.
Read the BBC write up.
---
JUNIOR TEAM AT ROYAL REGATTA
A team of 29 Richmond paddlers attended the Royal Regatta on July 9th. Caitlin, Conor, Emma, Laura,Lucy, Tansy, Daniel, James, Elly and Matteo were all competing for the first time. There were many excellent performances during a great days racing.

Thanks go to all the supporting team of coaches and parents.
---
Lizzie Takes Gold at Rome World Cup
Lizzie Broughton racing K2 with Fay Lamph triumphed on Sunday at the International Canoe Federation World Cup race in Rome, Italy. Racing over 26 km with six portages on the River Tevere, Broughton and Lamph were up against the current female world champion from Denmark. The race was closely fought up until the penultimate portage when slick portaging by Broughton put the Danish crew under pressure, causing them to make a fatal error leading to the Danish crew swimming at the portage and subsequent retirement. Brought and Lamph were able to cruise home beaten there next competitor from France by three minutes. Selection for Broughton, in at least in K2 for the Europeans is almost certain now.
Richard Hendron in his first marathon international cruised home after a steady consistent race finishing 12th in the Mens K1.

A great result for both especially Broughton, who steps closer to world domination... Well at least in female kayak marathon racing.
(Thanks to Richard for the report and digging out the images)
---
Junior Team at Reading Regatta
A team of 21 Richmond paddlers ( 20 Juniors + Chris Gavin ) attended the Reading Regatta on Saturday.
In between the showers they all raced well and enjoyed themselves. Rhiannon O'Connor and Joe Izett were racing for the first time and proved themselves up to the task.
Thanks to all the parents for helping Tim and Marcus on a busy day.
---
Richmond's Royal Victory
Richmond were top Club at the Royal Race last Sunday!

Outstanding results across many Divisions:
| | | | |
| --- | --- | --- | --- |
| Div 3 | K1 | Freddie Purcell | 4th |
| Div 4 | K1 | Nicholas Romain | 4th |
| Div 7 | K1 | Pamela Kane | 1st |
| Div 8 | K1 | Harry Burden | 6th |
| | | | |
| Div 4 | K2 | Michael lavarack/ Will Abson | 1st |
| | | Chris Gavin/Rob Stainsby | 3rd |
| Div 5 | K2 | Isaac Blackman/Alex Khlaf | 1st |
| | | Ian Lavarack/ Karl Garvey | 3rd |
| Div 6 | K2 | Renee Myburgh/Frances Merry | 1st |
| Div 7 | K2 | Nikki Herwanger/Geoff Reading | 2nd |
| Div 8 | K2 | Dominic/Adrian | 1st |
| Div 9 | K2 | James/ Nicholas Plaut | 1st |
| | | | |
| Lightening | U12M | Harry Wells | 1st |
| | U12M | Oliver Khlaf | 2nd |
| | U12F | Ellie Tompkins | 2nd |
There was also strength in depth - good performances from James King, Alex van Tuyl, Dylan, Paul Hayes, Paul Wells, Will, Emily Romain, Mike Foster, Jorg, Klaudia, Poppy, Fred Schesche, Andrei, Ben Phillips, Clive, Jake Bedford, Margot/Andrea/Fraser/Ian Blackman, Lily Wong, Coralie & Ian, Maggie & Oliver, Roger & Jemima, Neil, Beatrix, Harry/Hilary/Paul Wells, Tanya, Jo, Alice Buckley and Francis Merry.
Next race is Maidstone, next Sunday 19th. Start 1200h. Discuss transport on Saturday.
---
Richmond Heading to Rome World Cup
Richmond continues to show its growing strength in breadth with club members Lizzie Broughton and Richard Hendron being selected for the International Canoe Federation World Cup to be held in Rome on 26 June.
Lizzie Broughton with Fay Lampar (Wey CC) will be competing in double K2 event for Team GB, having won the selection event by more than six minutes. Richard Hendron, who was recently promoted to Div 1, has been selected to compete in the Men's K1 for the Irish national Team.
Two great results for Lizzie and Richard, confirming Richmond CC are are back in the mix for international racing.
---
Broughton Blazes On
Broughton Powers home Dominating the Senior female K1 and K2 Selection Race.

Club star and international paddler Lizzy Broughton showed her might and muscle in the K1 and K2 selection races for the World Cup in Rome in two weeks. In the K1 Selection she managed to take a minute and a half of her nearest opponent by cunning tactics and a lot of hard work - the same person who was faster then her last year. The tide has changed and Broughton now dominates the female field in Marathon.
Lizzie confimed her domination in the K2 selection with Fay Lampar, showing it to be a one boat race, finishing 1st, over six minutes ahead of the next boat. Amazing results from Broughton, a selection for the World Cup surely looms.
Watch this space.
---
Reading Circuit Race Report
Twenty Richmond paddlers attended the Reading circuit race on Sunday. Good results by all. Worthy of a note is Harry Wells who indicated that he might be following in his father's footsteps winning the U12 Males and the Hoddy K2 with Oliver Khlaf. Promotions and Podium finishes as follows:
Promotion
Richard Hendron PROMOTED to Division 1
Alex Khlaf PROMOTED to Division 5
Oliver & Maggie Berchtold PROMOTED to Division 5
Renee Myburgh PROMOTED to DIVISION 6
Podium Finishes
2nd Freddy Purcell Div. 4
1st Harry Wells U12M
1st Harry Wells and Oliver Khlaf Hoddy K2
1st Harry Webb and Thor Harley Div 9.
---
Apps and Blades

Push the technical barriers before paddling with a funky tide app for your smartphone. www.londontides.com.
Actually it's not that funky!

Also, you may notice some new club blades around the boathouse in the coming weeks. PLEASE take care of them and encourage others to do likewise. Thanks.

<!top 12 articles CG>
---
Basingstoke Marathon Race Report
We had a small but fine turnout of Richmond paddlers at the Basingstoke marathon.
Paul Hayes finishing 3rd in Div 4 got promoted to Div 3. Chris Gavin racing in Div 4 unfortunately had to retire. Giuseppe Seminara racing in Div 5 came 9th out of 26. In Div 5 K2 Neil Camp and Beatrix Weigal came 5th, Jemima Johnstone and Roger Crawford came 4th despite breaking the rear footrest halfway through the race - Roger then had to put his feet on the metal flanges, but this sorted out their lean - they're considering racing without a footrest altogether next time!. In Div 6 K2 Maggie & Oliver Berchtold came 1st.
Thanks to Maggie for the report.
---
Nottingham May Regatta Schedule
Schedule for the May Regatta in Nottingham. Take a look and see what you want to do. Oh, and here are a few pictures from April's Sprint Regatta.
---
Richmond DW Win
Richmond usually dominates the Devizes to Westminster 125-mile canoe marathon race and this year was no exception.
For the first time in many years Richmond not only had a junior K2 entered, but won the junior event. Freddy Purcell and Alex van Turl cruised home in 1st in a time of 16:39:50 winning the junior event despite on the 1st day finishing second, eight minutes behind the lead boat. A determined and strong effort on day two saw them take the lead and then hold it till the end beating the Foy crew by 6 minutes.
The Lavarack son and father combination teamed up to storm to victory in the junior vet category winning in a time of 18:21:10, that being 79 minutes faster than the 2nd place in the category.
The K1 race saw a tough fought race. Gert Van Deventer put a sterling effort in moving from 3rd on the 1st day up to 2nd position by the end, in a time of 16:42:21. Also in the K1 saw inter club rivalry with Kevin Marsh finishing 21st in a time of 22:07:09 with fellow club mate Pablo Basombrio finishing just behind in 22nd position in a time of 22:11:41. In the Ladies field, Jemina Johnstone finished 2nd in field in a time of 25:19:51 placing her 35th overall in the k1 field. Finishing a few places down was Jeff Lindsay in 42nd position in a time of 28:37:38. A good performance by all those in the stage race.
In the Senior non-stop K2 event Richard Hendron and James King, for the second year in a row finished 1st with a time of 18:08:06 despite enduring a crippling lean for over 6 hours. Finishing second in the mixed K2 in a time of 21:49:17 was Poppy and William Flannigan. Further down in the mixed field Maggie and Oliver Berchtold finished 6th 24:49:04 while Louise Fitzgerald and Robert Hall finished 7th in mixed being 51st overall in a time of 25:18:23.
DW veterans Piren Shelly and Russ Dawkins proved that they could not keep away with some sort of addiction to pain, finishing 7th in a time of 19:34:35. Further down the senior field Jack Wilshaw and Duncan Bates finished 11th in 20:49:58. Mike Piggott teaming up with Will Abson proved that they could not consume the £400 of food that they bought for the race, resisting the picnic they finished 14th in a time of 21:19:06. (Apparently Mike is starting a tuck shop with the left overs)!
Also to finish in the K2 race was Sue Middlehurst and Andrew Pollock ( racing for Addlestone) in 23:57:17 in 38th position; Dominic Dimambro and Adrian Ross in 24:22:17 in 40th position; Ruaraidh Smeaten and James Wood 24:52:37 [44th]; Martin Beaumont and Russ Burke in 25:15:31 [48th]; Clive ferris and Ian Roots 25:15:57 [49th]; John Cornwell and Nick Moody 25:16:57 [50th]; Fiona Rutt and Mark Birkbeck in 26:40:30 [62nd]. Mean while the last minute crew of Henry Hendron and Rob Stainsby proved that a good support team is vital to the paddlers after they were forced to retire at Reading as a result of their support crew going astray. In addition to individual performance Richmond also won the senior team event and the Trans class event.
The lack of flow was compensated by the great weather which ensured that everyone both paddlers and support had a jolly time by the river. Well done to those to completed the race especially those first timers, (the next DW will be easier).
Details of DW celebration party to follow.
And next year's race is from 6-9 April 2012. The summer is a great time to start getting in shape and seeking out potential partners.
---
Nottingham Results
Full Nottingham Regatta results (haven't had time to digest, please send through comments if you have them).
---
Waterside D
Results from the Waterside D are out. Here's the pick of the Richmond details:
Senior Men K2: Will Absom & Mike Pigott finished 8th with a time of 5hr:28min:40sec
Junior Men K2: Freddie Purcell & Alex van Tuy finished 3rd with a time of 5hr:18min:30sec
K2 Vets: The Berchtolds finished in 16th with a time of 6hr:33min:27sec
K2 Mixed: William Flanagan & Poppy Flanagan finished in 4th with a time of 5hr:41min:45sec
K1 Senior: Gert Van Deventer finished in 3rd with a time of 4hr:55sec:15sec. Paul Hayes
finished 5th with a time of 5hr:39min:13sec
K1 Vets: Ian Lavarack finished 5th in 6hr:04min:29sec
It looks like the K2 Senior record has been beaten with Brown & Lawler clocking 4hr:11min:14sec
which is fairly rapid and with little to no flow. I guess that's why they include the current and former
multiple world marathon champions.
Good luck to those above who are taking part in DW in a couple of weeks.
---
Great Pics from Down By the Riverside
Club member Tricia tooks some pictures down at the club. Take a look at
www.triciadecourcyling.co.uk - some fantastic images in amongst this lot.
So now we have an official club photographer!
---
Thameside C
Thanks to Peter Barnes for this (edited) Thameside Roll of Honour:
K2: In Senior Mens Will/Mike, Jack/Duncan, James/Ruaraidh, William James and Jonathan/Clive. In Junior Ladies Emily/ Rebecca from Wey. In Veterans Adrian/Dominic. In Mixed Poppy/William, Coralie/Ian, Neil/klaudia, Oliver/Maggie and Geoff/Karen.
K1; Richard Hendron, Dylan, Kevin, Ian Lavarack, Pablo, Jeff, Louise and Michael Lavarack (junior).

Jack/Duncan had learned not to leave dry finish kit AT THE START from Thameside 1. Good. However Pablo decided to do the same with his dry finish kit at Thameside 2. Lots of other kit mishaps providing wonderful experience to learn from.
Waterside C start window 0900h - 1100h, so an early start on Sunday.
---
Waterside B Race Report

Race report from Peter Barnes. Waterside B in good weather!!!.

Stars of the show were Richard Hendron/James King (Richmond/Southampton) 2nd in Mens K2; Freddie/Alex 1st in Junior Men K2; Lizzie/Fay (Richmond/Wey) 1st in Ladies K2 with a category course record as well.

No great stories to tell such as capsizes or broken boat bits. Well perhaps Ruaraidh/James in Black Accord who decided to portage back onto water under railway bridge at 3rd portage and inevitably capsized under the overhang.

So roll call of successful completion goes Will/Mike (10th in Mens K2); Duncan/Jack, Dominic/Adrian; James/William; Ruaraidh/James; Jon/Nick; Clive/Jon; Jack/Benjamin (capsized before start, and broke rear footrest en route).

In mixed K2: Oliver/Maggie; Will/Poppy; Neil/Klaudia; Fiona/Mark; Geoff/Karen.

In Mens K1: Dylan, Ian Lavarack; Richard Melik; Graham Stonehouse; Pablo (detached front footrest); Valentin; Jeff.

Finally (and very importantly) in Ladies K1: Jemima Johnstone.

Thameside 2 next Sunday. See you there.

<!Check point CG>
---
Pas-de-Calais International Regatta 30th January 2011
Rebecca and Alison - 1st and 2nd in Girls 2000m!
---
Waterside A Race Report
Twenty one Richmond paddlers represented Richmond on Sundays Waterside A race going from Great Bedwyn to Newbury, covering 14 miles and 21 portages. In the junior race, Freddy Purcell surprised everyone by not crashing out half way down and just missed out on a bronze by 27 seconds in a time of 2:08:13, finishing just in front of Michael Laverack 2:08:13 (6th) and Nick Romain 2:18:03 (8th). A good effort by the junior contingent. The mixed race also saw Will and Poppy Flanagan miss out on a bronze finishing 4th in a time of 2:06:01.
The men's K1, Gert Van Deventer finished 10th with a very respectable time of 1:59:22 while fellow South African, though Richmond bred, Paul Hayes finished 15th in 2:16:06. The senior men's double race saw Richard Hendron and James King take an unexpected swim but still finish 2nd in a time of :1:43:09 beaten to 1st position by Elmbridge paddler and current world champion Ben Brown paddling with 6th times former world champion Ivan Lawler. Further down the field brothers and newcomers to paddling, James and William Bakewell stormed home in 2:24:43, a very respectable time considering their boat and limited paddling experience. Well done to all those attended a great effort by all.
(Words from Richard Hendron - thanks Richard. Picture below from www.paddlepics.co.uk where you can see and buy photos)
---
Luzmore Race 9th January 2011
Race Results here.
---
---