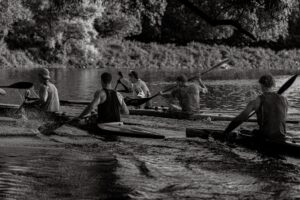 Richmond Canoe Club was founded in 1944. Today, the club concentrates on sprint and marathon racing and recreational paddling, both in canoes and kayaks, for paddlers of all ages. We have a thriving junior section, a broad range of adult training groups, and many keen groups of paddlers who enjoy getting out on the river all year round.
For many years now, Richmond Canoe Club has been the base away from homee for a large number of foreign paddlers, many of whom compete at international level. Australians, Kiwis, South Africans, Irish and more have all made Richmond their training base in England.

Richmond is the only large racing club accessible from both the tube network and London's suburban rail system. Even for weekend paddlers, being able to get out regularly without needing a car continues to be a big attraction.
Richmond Canoe Club would like to extend a particularly warm welcome to overseas paddlers. If you're visiting the UK for any length of time and will be based in the London area, get in touch or drop by. We'll try to help you make your stay in Britain a memorable one.
Of course, we also welcome those new to the sport with an interest in competitive kayaking and canoeing. Our novice groups provide a safe and friendly environment in which you can improve your skills and develop a successful racing technique. For experienced paddlers, there will be a training group that matches your speed and ability level.
Facilities
The club has a number of facilities in place for members
Changing rooms with showers
Paddlesport specific Gym (requires coach approval)
Paddling machines
Boat Storage
Galley (on saturday mornings)
Coached sessions for all abilities
Weekly whole club time trials (summer time)