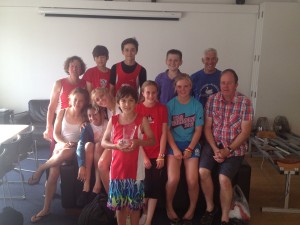 Last Sunday Richmond Canoe Club won the inaugral Ed Mckeever Trophy for top overall club at the London Docklands Sprint Regatta. The team competed in singles and doubles over 200m and 500m and finished ahead of Wey Kayak Club in 2nd place. Annabel has written the following report of the day.
It was a grey, cloudy, and early Sunday morning at the London regatta centre. There was some confusion over the actual starting times of the races as they had been changed the day before. The Richmond team all proudly wore their red tops and we were pretty sure we outnumbered any other team. We carried boats off trailers and organised: paddles, buoyancy aids and race numbers.
The first races were the K1 500m heats; Jacqueline, Nicki H, Elin, Joe W, Oliver W, Ben P and Lily came first and many others also qualified for the finals. After a lot of cheering and seeing a mad Sue running around everywhere with a clipboard, it was the K2 500m heats. Tony and Ellie, Jacqueline and Lilla, James and Ben, Lily and Mick, Oliver W and Oliver P, Alia and Elin, Joe and Harvey, Francis H and Theo H, Nicki H and Ewan, and Annabel and Jorg (who had a paddle snapping off problem) all qualified for the finals.
Things started to cheer up: rumours buzzed around of Richmond being in the lead; the sun came out producing a hot 27 degrees Celsius to contrast with the chilly morning and a few planes began to land in London City Airport on the other side of the river to add excitement to the enthusiastic kayakers and canoeists.
Next was the K1 200m, there was a lot of cheering and yelling as Oliver W and Nicki H came first in their finals.
Between races we would usually sit around the results board to find out: who got into the finals and what time they had to start rushing to get their boat ready. Meanwhile we would all be nibbling on a packet of Jelly Babies and complaining who took more than others from the packet.
The K2 500m heats had their amusing moments when people capsized or when K2s completely swerved off course and into someone else's boat just before the finish line. Once again we were all happy to see that nearly all of the Richmond team who entered the heats went through to the finals to collect even more points.
Another peek at the score board and Richmond were still in the lead, however a feeling of dread hung in the air as we came to realise that Wey had 4 teams for the relay and we only had 2. Our teams still did really well and tried their hardest.
The highlight of the day was when it was announced that Richmond came first! We won the Ed McKeever trophy. It is big and made of glass and we were all surprised we had won it as we thought Wey were going to overtake us on the score board after the relay. It was very close: Richmond Canoe Club won with 367 points and Wey had come second with 336.
It was a great day out, some of us left with sunburnt faces and ice cream and we all left with a smile on our face. Everyone did really well in their races and helped to collect many points for the club. This fun and exciting day would have been nothing without the organisers and volunteers: thank you Sue, Tim, Jorg and Geoff as well as everyone else who helped out.