The international marathon season kicked off two weeks ago with the only Marathon World Cup of the season taking place in Bohinj, Slovenia. With the European Championships just a week later, GB sent a development team of 8 to this event, with Tom Sharpe selected to race following results at early season assessment races.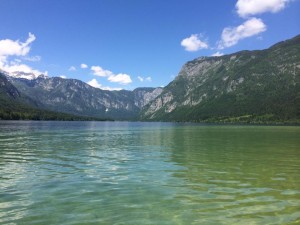 This was the first World Cup to use the new format of short 3.6km races on Saturday followed by a traditional full length marathon on Sunday. Some athletes opted to race just one of the days, but most, including the GB team did both events. The venue was incredibly picturesque, with races taking place on a sandy 4km lake set in the mountains. The entry in Tom's senior mens class was reasonably healthy, with 20 entering the shorter race and 15 the longer.
The racing on Saturday was split into two heats in the morning, with the fastest 10 then qualifying for the finals in the afternoon. For junior and senior ladies, and C1s there was just straight finals. The course was three small 1.2km laps with a portage between each. Tom got an excellent result in his heat, finishing in 3rd, a couple of seconds behind the winner and qualifying directly for the final where he was joined by two other British boats, two Slovenians, Denmark, Norway, Sweden, Czech Republic and Hungary. In the final Tom had a strong start but couldn't quite match his pace of the mornings heat. He finished well to take 8th place in 17:56 ahead of the other British paddlers.
Sundays race was the usual format of longer 3.75km laps. For the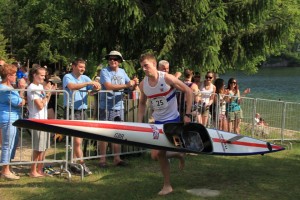 senior men this meant 8 laps and 7 portages. From the start Tom made his way into the lead group of 6 but under pressure at the first portage filled his boat with water and lost contact with the front group. With a large gap to the next paddler Tom completed the remaining 7 laps on his own, crossing the line in 2:20, taking a good 6th position having managed to hold the gap to the leaders to two and a half minutes. All of the paddlers who finished ahead of him went on to compete at the European Championships illustrating the high quality of the field. The winner, Mathias Hamar of Norway, took 3rd place in the seniors mens race at the Europeans. The rest of the GB team had some good results, with the juniors collecting 1st and 3rd in the longer races and a 2nd in the short.