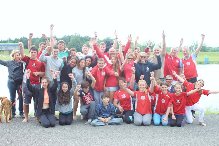 After a 15 year gap the Macgregor Interclubs Sprint Championship Trophy has returned to Richmond Canoe Club, with a 70 strong team securing a marvellous victory over last year's winners, Norwich Canoe Club. With Richmond entering the weekend 3 points behind on the combined promotions and pre entry tally, every single member of the team was required to secure the points needed to pull back the deficit and take the overall lead by 5 points. This was not a victory carved out by our regular 20-30 sprint paddlers, this was a real team effort from the entire club, with all the training groups contributing across the divisions to our final points tally. From seasoned Nottingham veterans to our newest paddlers there was a big effort to get the biggest and best team possible to the regatta this year and our efforts have paid off. On arrival at the course on Saturday morning we were greeted not with the traditional Nottingham rolling waves and gale force wind, but with sun and only a gentle headwind. The favourable conditions stayed all weekend, and even the rain held off.
With such a huge team it is difficult it pick highlights from the weekend. With 12 scoring K1s, 6 K2s and 3 K4s required everyone rose to the challenge. The K4 events provide exciting spectator viewing at sprint events and this year was no different. Richmond didn't field as many K4s as usual which meant our women's C crew went into their race with the pressure of needing to deliver a good result. Qualifying second fastest for their final, Nettie, Nicki, Sue and Coralie raised their game and stormed the race to take 1st and maximum points. Our other top scoring K4 was Lizzie, Freddie, Neil and Jack in the men's C 1000m event, improving on last year's 5th place with a win. Sue turned out to be our K4 saviour as she also raced in the ladies masters' event with Hilary, Tanya and Jemima and took 2nd place and our final scoring points.
We were able to secure maximum K2 points, thanks to great results from across the team. Ben and Joe were racing in Boys B for the first time but this was not evident as they took a superb victory in the K2 1000m. First timer Tom W. raced with Kevin, and the two provided another victory with 1st in the mens D 1000m event. In the mens B events Tom and Brett were the dominant K2 and had two very strong races in the 500m and 1000m to take 1st place in both by a clear margin. Nettie and Nicki also did the 500/ 1000m double with two excellent wins in women's C. Our canoe paddlers were mixed in with kayaks for some events and finished well up the field, and Ben and Adrian secured us more points with 1st places in the canoe only 200m and 500m races. Lily formed a last minute pairing with Lizzie to take a clear victory in the combined women's A/B K2 1000m, an impressive result for a 14 year old!
With our top 12 scoring K1s forming the biggest portion of points we could not just rely on crew boat success. Tom was impressive in mens B, showing big improvements from the years earlier regattas to win both the K1 500m and K1 1000m. This was matched by Lizzie in womens B, who won the 500m, 1000m and took second in the 200m. Our mens C contingent was strong, with Freddie taking victory in the 500m and 1000m, and Fred S. 2nd in all three distances. One of the biggest cheers of the day was reserved for Mick who dusted off his racing paddles to storm to a Masters D 200m victory, only narrowly missing out on the 500m double the next day. In the canoe events, Marko was 2nd in the 1000m, with Marvin 1st in his final for 200m and Arthur 2nd in 500m. There were two second places in the 200m and 500m for Hilary in the Ladies Masters, and a 2nd for Nicki in the womens D 200m.
Our juniors performed superbly and despite many of them being recently promoted finished towards the top of most of their races. Lily continued her rapid progress this year and made 1st finals in all the K1 girls B events. She teamed up with Ali, who raced incredibly well on limited training to take 3rd in the 200m and 500m events. Ben and Joe backed up their excellent K2 race with qualifying for the first finals in K1, and were joined in boys B by Oliver. Our D class juniors also raced well with Emily and Freya continuing their strong sprint season with a 3rd in K2 500m. Isabella, Zoe, Lottie and Rhiannon made the second finals in crew boats, promising results for some of our younger paddlers. Harry, Ewan and Archie finished towards the top of boys D and formed some good crew boats with Joe, Kieran and Joshua to make finals in all events.
Relatively new to paddling and racing for the first time at Nottingham, Emma, Sabina, Allyn and Annette showed huge determination and club spirit to race very competitively alongside far more experienced paddlers. Another first timer, Tanya, got some excellent results and top 3 positions in the masters class. Beth, Laura, Gaby and Klaudia raced well and enabled us to enter a 2nd K4 in the ladies class. Dan, Ian and Tom W were also new to the team and alongside a great K2 win also formed a K4 with Kevin and raced K1s competitively within their division. Our masters contingent were also out in force, with Jorg, Sean, Stefan, Tony GN, Tony W, Paul, Peter and John ensuring Richmond vests were present in all finals. Once again our canoe paddlers outnumbered those from any other clubs. Alongside Marko, Ben and Adrian we had Marvin, Arthur, David, Marcus and Louise forming a number of C2s and C4s.
Although they were racing separately to the main competition our lightning team raced really well. Francis and Lilla made the 2nd final of the K1 500m event, and also raced together in K2. Hope and Jojo were 3rd in their K2, and had a busy afternoon in K4, racing first with Theo in lightning B, and then Theo and Francis in Lightning A. Jojo had so many races she had to cycle from the finish of one to the start of the next to make sure she got there on time. To finish the weekend they raced up into Girls D with Rhiannon and Lottie for the 500m K4, gaining valuable experience for the future. Zoe completed our lightning team racing in lightning K2 and girls D K4 and K2.
Looking beyond the results, the organisation and logistics behind mobilising 70+ paddlers to enter, get to Nottingham and have boats to race, whilst also managing last minute crew changes, was a mammoth task in itself and was dealt with superbly by team leader Tom, assisted by Sue. The remaining coaches- Mick and Tim for the juniors, Marcus the canoes and Peter and Jemima for the newer paddlers did an excellent job of getting their paddlers to the start line, in Richmond kit, on time. As ever, the success would not have been possible without the small army of behind the scenes volunteers- Sean and Stefan who drove the trailers, the parents and drivers who got everyone to the regatta and everyone who helped create such an effective 'base camp' with gazebos, tables, chairs and snacks. After working our way progressively up the interclubs rankings over the last few years, this victory is the culmination of a years hard work from everyone involved in the racing set up. Congratulations to all paddlers, parents and coaches. Hopefully next year we can go back and defend our title with an even bigger, stronger team.
For full results see