Richmond celebrates first European Marathon Champion since 1997 (report by Tom)

Richmond Canoe Club have put themselves firmly back on the map at the top level of marathon racing in the UK, with two athletes selected for the GB team at the European Championships. Nick Romain and Lizzie Broughton both raced in K2s at the event in Portugal last weekend. Following an impressive series of results in the early season domestic assessment races, especially in K2 at Norwich, Nick was racing in his first GB marathon team event with Sam Plummer from Leighton Buzzard, while Lizzie also raced in her preferred K2 discipline with long term partner Fay Lamph from Wey.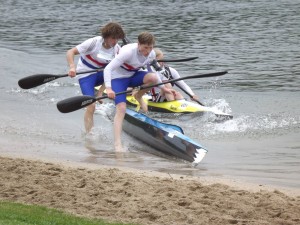 Nick was first to race on the Saturday morning in the Junior Men K2 class with a field of 16 boats. They were in the front group of eight crews for the first half of the race before the race split in two. Nick and Sam raced well to win the second group with an overall position of sixth. This is an excellent result for the pair, and shows good potential for other international races later this year, and also for next year when Nick should be aiming for under 23 selection.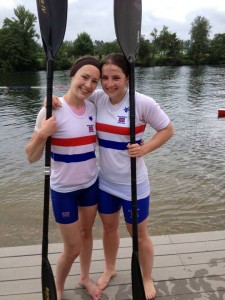 Lizzie and Fay raced on Sunday morning in the Senior Women K2 race of 11 boats. In their last outing at a European Championships the pair achieved fourth place, and this time they were hoping to improve on that result. Soon after the start it was clear that they were amongst the strongest in the race, and after the first turn they spotted an opportunity and managed to break away from the race with only the Spanish pair for company. The two crews worked together and increased the gap ahead of the main group until the last portage when Lizzie and Fay took advantage of their superior portaging and raced away to take a convincing win, 20 seconds ahead of the Spanish pair.
GB have had only one other win in the senior women K2 class at the European Championships, in 1997, a result that Richmond Canoe Club was also half responsible for in the form of Trish Davey. Hopefully this will act as strong motivation for younger girls at Richmond who aspire to achieve this level of competition in the future.
Both Nick and Lizzie's results show that Richmond Canoe Club can produce athletes that are competitive not only in the UK but also in Europe. With such a large number of active club members it must only be a matter of time until we see these performances as a regular occurrence. For those aspiring to gain selection for the GB team one day, give yourself the best training there is by racing as often as you can. The next assessment race is in Oxford on the 30th June, and these races are the only way to get yourself known.