The London Youth Games are an annual competition for young sportspeople living in London boroughs. Participants compete for their resident borough in their chosen sport, with the points gained in each event added up to crown an overall winning borough. Last year over 100,000 people competed in the event, in over 30 sports. The 2013 kayak sprint event was held last Saturday, with many juniors from Richmond Canoe Club competing for Richmond borough, and for other boroughs. Scarlett has written the following report of the event.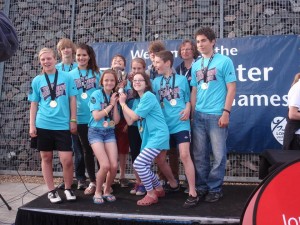 We all met at 11am outside the canoe club and loaded our paddles and buoyancy aids into the mini bus. Apart from a few nerves all the competitors were excited and hopeful as we drove to The London Regatta Centre.
When we arrived there were already so many competitors we could tell the atmosphere for the sprints was going to be good. We all got off the bus and walked down the docks, getting friendly evil eyes from competitors from different boroughs. After receiving our blue Team Richmond 2013 t-shirts we found a good place to sit and waited for each of our competitors to get called. During this wait many of us were very excited to discover they give you free London Youth Games water bottles.
The sprint racing began at around 2pm. Excited parents, team leaders and competitors lined the course screaming encouragement to their team. Some parents chose to charge down the course after their child yelling their names and looking slightly crazed.
The girls lightnings were the first to race and Ellie had a glorious win, which was followed by Joe's in boys lightnings. They both went straight to the finals and won two gold medals for Richmond. In the junior races Gondwanna came a strong third for the girls as did Ewan for the boys. They both then raced in the repecharge, where Gondwanna came second and went through to the final. Ewan just missed out by coming fourth but he put up a good fight and was racing against some very strong competitors. Annabel and James both came second in their senior events so both went straight to the finals, where they narrowly missed out on third but it was such a close finish there must have been milliseconds between first and fourth place.
The rocket k4s were the last event and probably the most entertaining to watch as some of the teams found it very challenging to keep in time with each other. The Richmond team of Rhiannon, Elin, Olly and Andrew proudly didn't have this problem and came first in their event, and third in the finals getting bronze medals.
Richmond Borough inhabitants were not the only competitors from Richmond Canoe Club. During the day we saw Sophie, Olly and Alex Khlaf and Lila Sehatta from the borough of Kensington and Chelsea, and Joseph Webb from Kingston. They also did very well in their races. Kensington and Chelsea finished joint third overall and Kingston came sixth.
The best moment of the day was hearing Team Richmond called out for 1st place overall. The team proudly bounded up to the podium to receive another gold medal and have their photograph taken. After saying a big thanks to Sue, because without her we wouldn't have gone, we headed home on the mini bus. Everyone got back at about 8pm. The combination of physical exercise, screaming our heads off and quite a lot of sun had made everyone exhausted but nothing could get the smiles off people's faces as the team trophy was passed around.