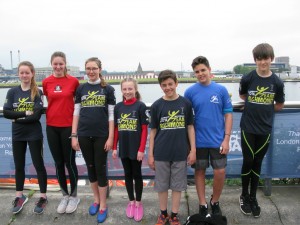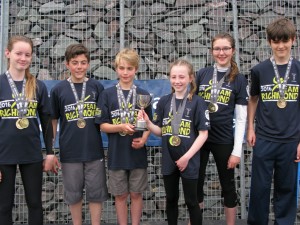 Richmond Canoe Club junior kayakers celebrated success last weekend (4 June) in a kayak sprint competition – the event was part of the London Youth Games. The games involve teams from each of the 33 London boroughs and include events from archery to volleyball – last weekend the focus was on some of the water sports, this included the 200m kayak sprint event. Competitors were thankful for warm conditions and none of the chill wind of the preceding few days.
Seven junior athletes from the club, representing teams from Richmond Borough and Hounslow Borough, battled it out in a series of heats and finals at the Royal Albert Docks. The paddlers were very excited with their individual performances gaining – three gold (Eve, Melody and Zoe) and two silver medals (Annabel and Charlie). These successes contributed to Richmond winning the Team gold medal (repeated 8 out of the last 9 years)
The whole day was lots of fun and we were delighted with the medal haul.