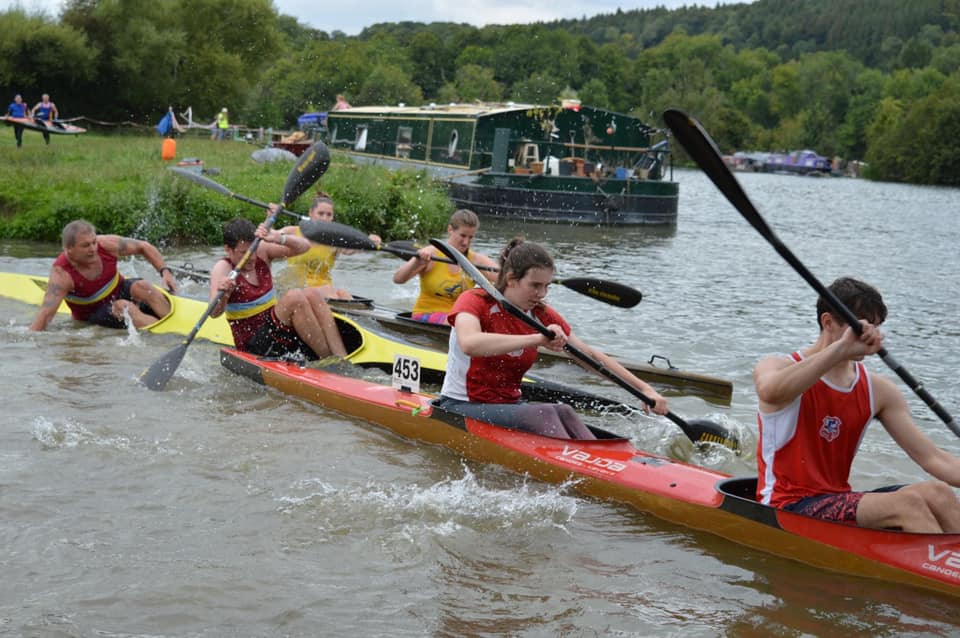 The new Hasler series calendar 2021-22 has started. Well done to all those who've already competed in out-of region races. Race report from Pangbourne further below.
Upcoming Races:
– Summer Waterside B – 26 Sept. For those not in the know, this is a 17.5 mile race with 19 portages. It's not a Hasler race, but one that's been moved from the usual winter series. As a guide, mid divisional paddlers in K2 finished around 4 hours in 2019.
Entries here:
https://entries.gbcanoemarathon.co.uk/club/RIC/races/79/entries
– Elmbridge Hasler 3 Oct
This is our first within-region race with club points to be gained. Race entries not yet open.
Promotion & Demotion:
In preparation for Elmbridge, anyone who has progressed considerably due to lockdown training in the past 18months or otherwise, needs to be allocated to the appropriate division to ensure you race competitively. Promotion by 2 divisions yields nul points & reflects negatively on the club, so to ensure maximum scoring when you race, you need to be in the right division.
Conversely, if you've slowed down since you last raced or have had a declining speed or a streak of D? over the summer, then you'll need to consider demotion & race at your current level. Novices should speak to their coach if unsure or drop Nicole an email marathon@richmondcanoe.club to discuss. I'll be submitting a batch request before the Elmbridge Hasler so please email me your request by Sun 19 September so changes can be made in advance.
– Hare & Hounds series, Guildford
This is a time-trial series of 5x 10km winter races starting 31 Oct run by Wey Canoe Club. Great for novices wanting to increase their paddling through the winter, with prize going to the fastest improver. You can choose to enter all or as many as you wish.
Full details and list of dates here: http://www.weykayak.co.uk/racing/hare-hounds-overview/
Vbar transport:
Having been so reliant over many years on Peter Barnes to tow the trailer, the summer's racing has demonstrated we have no replacement. Individual paddlers therefore consider the following:
If you already have a car & roof-racks, you should consider investing in vbars if you've paddled for some time.
If you're reasonably new to paddling & are deciding if this is a pastime you wish to invest in, we have a small number of club vbars that can be loaned out for an event; log book in the club (more details to follow).
If you don't have a car, buddy up with someone who can help out & ensure you offer payment for transport/fuel costs.
The club can only facilitate so much race coordination but we are reliant on you to aid some transport logistics also.
Weekend marathon racing report:
Pangbourne was an out-of-region Hasler, but saw a decent Richmond turnout of 16 boats enjoying that very picturesque stretch of the Thames.
Phil Pirie & Mike Channon div 3 K2 had a good paddle; despite only 4 boats on the start, it was a proper race all the way. 2 boats dropped at the first portage and the second turn. The two remaining boats fought it out swapping leads, sprinting into the portages and turns, with a tight sprint finish. Well done guys!
Josh Barzilai div 3, 11th/28 boats with a fierce start seeing swims for a few. He settled into a rhythm in the second pack – with some subtle argy bargy between a few paddlers. Managed to portage for the first time since the broken toe!
Guy Peters Div 4 had a busy start-line of 32 boats; more of a churned up maelstrom with juniors than the usual placid Pangbourne scene. A bit tricky in the chop; the best bit being the sunshine!
Jojo Gill & Max Henderson-5th Div 4 K2 stayed with a Leighton Buzzard crew from quite early on after a solid start & smooth portages, with little K2 time together of late. Pipped by 2seconds at the finish but happy overall.
Louis Barzilai div 5, a superb 5th out of 33 boats. Portages came quicker than expected giving a welcome leg-stretch.
Trishan won div 6 by a 6minute country mile with due promotion from div 7 to div 5 which was quicker than the div 5 winner! Likely promotion to div 4 on the horizon; well done Trishan! In the same race, recent novice Steve Hargrave 8th, a fantastic feat after a summer of novice courses, on the back of some Putney foundation paddling
Tom Silverman bolted off the start, affording himself clear water the whole way around; has clearly maximised lockdown paddling, winning div 7, promoted to div 5
Nicky & Ingrid's first div 7 K2 race. They worked hard to keep up in a fast race & overtook a couple of boats to come 8th which they were pleased with. They applauded the race organisation with each division having allocated bubbles, precluding mixing of boats across divisions.
Kalman Cseh – 2nd in div 8, had a tough race with a suboptimal start but slowly caught up 6-7 paddlers ahead & was promoted to div 7. Simon Case came 8th out of the 19 boats which he was pleased with. Louise Jablonowska – 12th after a slow start but enjoyed the race & avoided swimming.
Carol in div 9 had an equally busy start with 26 boats, deciding to stay out of trouble but then got left behind. All in all, good mileage was accrued for this new novice
Leon had a great race, coming 6th in the u-14 category aged 10 & shaving off 6 minutes from his RIC race last month!
Meanwhile, in Ireland,
Sean Martin added to his extensive Liffey medal collection, winning the C1 category of the 61st Liffey Descent race but not without earning it from the final weir: think children's playground slide but on an industrial scale made from raw concrete. Rocked out of his canoe after being hit from behind, he was picked up by the rescue team after much flailing & bruising. With a fatal fist-sized wound to the boat, he ran with it on his shoulders from Chapelizod to Island bridge, put in before the finish line, as is required by the race rules, finished….& then sank. But he won!!
Sean McCarthy came 4th in his K1 category after all that Swiss cross-training, while Max & Stefan Dums had a clean run, apart from an overly-ambitious shoot down the fast left hand side on Sluice which flipped the boat; approx 2:30 finish time, with a big shout out to the support crew of Allyn & Marlena!