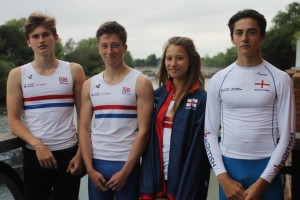 July kicked off with some great results for our paddlers…
First congratulations has to go to Lizzie Broughton, our star marathon paddler who won silver at the European Marathon Championships in Slovenia last weekend.
 Lizzie explained: "It was really hot over there but was good preparation for the Worlds, which are in Hungary later on this year." Lizzie finished second to the Hungarian paddler, Renata Csay, who won the World Championships last year where Lizzie finished second. She has just one selection race left, the British National Championships in Norwich in August. We wish her all the best for the reminder of the season.
 Richmond juniors also performed exceptionally well at the Nottingham National Championship Regatta last weekend.
In the canoe category, Ben Phillips (aged 17) did the clean sweep by winning every C1 event he raced – the 200m, 500m and the 1000m. His club mate, and C2 partner Adrian Meikle-Briggs (aged 16) also performed well winning the U16 C1 200 and 500m. The quality of their C2 racing got them selected to race the C2 1000m event at the U18 European Championships in Poland in August.
"We're pumped!" said Adrian.
This talented C2 previously raced at the Olympic Hopes Regatta last year, which is for up and coming juniors who show potential.
Richmond also boasts two outstanding kayakers who have both been selected for this year's Olympic Hopes regatta, in Poland.
Joe Webb (aged 15) who has only been paddling for 22 months performed exceptionally well at the regatta winning bronze in the K1 1000m, finishing 4th in the K1 500m and winning both the K2 events.
Lily Wong also had a great regatta. She won Silver in the K1 200m, Silver in K2 200m, 500m and 100m and Gold in K4 500m.
Lily and Joe both have another year in this age group, which makes their performances even more impressive.
Catching up with Joe, he is clearly delighted to have been selected, "I am really happy, I've been training really hard. My aim now is to make the A final, that's top 9."
Lily is 'overwhelmed' and 'excited' and is looking forward to meeting the competition.
Special mention to Freya Peters who won 5 National titles and one Bronze at U14s category. Outstanding result!
All juniors credit the Richmond Canoe Club coaches for their success.