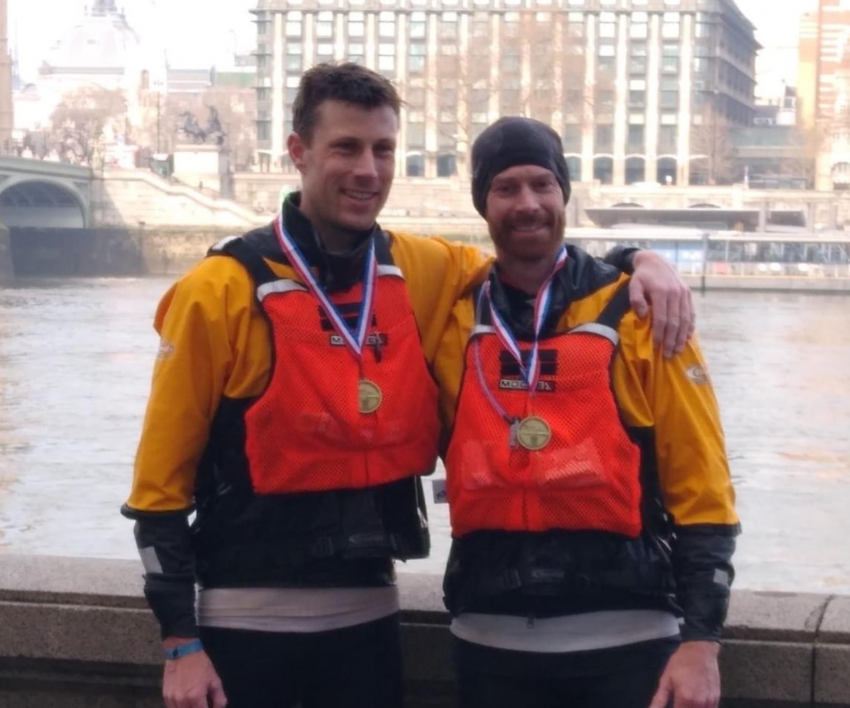 Our very own Tom Sharpe have broken the senior doubles record in the prestigious Devizes to Westminster International Canoe Race. This ultra marathon takes place every Easter weekend and is the longest non-stop canoe race in the world.
Keith and Tom completed the 125-mile course in a phenomenal time of 15 hours 19 minutes (15:19:35), breaking the 44-year-old record of 15 hours 34 minutes set by the Richmond and Reading Canoe Club partnership of Tim Cornish and Brian Greenham in 1979.
The duo began preparing for the race in Easter 2022, dedicating a year to train and target 200km per week between running and kayaking. Tom trained in Richmond with a strong training group, while Keith trained in Chelmsford. Their dedication paid off as they set a relentless pace during the race, supported by an incredible support crew cycling 50km of the towpath on the canal, lighting the way, and providing food and drink.
Other Richmond Canoe Club members also put in impressive performances. Anoushka Freeman and Sam Lee-Gill finished in 18 hours 22 minutes (18:22:20), Betsy Ray and James Prowse finished in 19 hours 2 minutes (19:02:13) as first canoe, and Arnoldas Latvenas and Arunas Dubauskas completed the race in 19 hours 31 minutes (19:31:54). Elly O'Connell and Jorg Herwanger crossed the finish line in 19 hours 47 minutes (19:47:14). Our final Richmond crew of Peter Hutchinson and Paul Marshall-Taylor showed incredible determination to finish in 26:03:09, which meant that Richmond were able pick up the team trophy for the combined time of three crews.
Tom Sharpe shared his thoughts on the race: "We have both put in a huge amount of effort and training to prepare for this race, so to be able to achieve both our goals of winning and breaking the record feels amazing. It was a special moment to arrive at the top of the steps at Westminster and see Brian Greenham waiting to congratulate us."
The race conditions were challenging, but the organising committee ensured the safety of all participants by restricting participation to highly experienced and competent crews and implementing additional safety measures on the course.
Completing the Devizes to Westminster International Canoe Race is an impressive achievement, and we are immensely proud of our club members. Keith Moule and Tom Sharpe's record-breaking feat is a testament to their dedication and hard work. We hope their success will inspire more people to take part in this incredible race.
We extend our warmest congratulations to everyone who competed over the Easter weekend, showcasing the incredible discipline of marathon paddling.