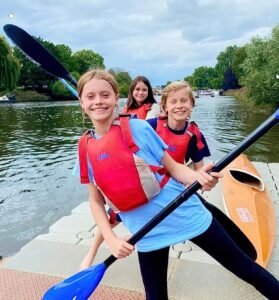 Discover the joy of paddling at the Richmond Canoe Club! We offer exclusive five-day beginner kayak and canoe courses for children aged 10-13. Perfect for a summer filled with adventure, learning, and camaraderie, our Paddle Camps are designed to provide young participants with a thrilling introduction to water sports.
Course Format:
Every week in July and August, we conduct two courses. Each course runs from Monday to Friday, with five 1.5-hour sessions spread throughout the week. Our careful planning ensures the course is comprehensive, safe, and engaging for every participant. We limit each course to 20 children, led by a team of four experienced coaches and four dedicated assistants.
To ensure the utmost safety, we schedule the course sessions to coincide with the safest conditions on the Thames. That means we take into account factors like tidal flows and local weather forecasts when determining our timetable.
A week's course costs £150 per child, offering an affordable way to introduce your child to a new sport and a potential lifelong passion.
Booking Process:
To secure a spot in our sought-after Paddle Camps, you need to complete an application form and process the payment via WebCollect.. It's a simple and straightforward process, designed to make your experience as smooth as possible.
Who Are These Courses For?
Our courses are tailored for children aged 10-13. Why this age range? It's about providing the best possible paddling experience. Paddle lengths and boat sizes are crucial for safety and performance in water sports. We've found this age range to be the perfect fit for our equipment. Younger children may face safety issues in the water, and older children might not find our equipment to their comfort or size.
Embrace the Capsizes:
Capsizing is an inherent part of water sports, adding an element of fun and thrill! Of course, safety is our paramount concern. All children are required to wear buoyancy aids at all times. However, they should also be comfortable in the water and have basic swimming skills. For our October taster sessions, we aim to minimize the risk of capsizing, but children should always have a change of clothes—just in case!
In the rare case of a session being cancelled due to inclement weather, we'll arrange an alternative day during one of the following Paddle Camps.
After the Course:
We love to celebrate the achievements of our young paddlers! After each course, we share photos and videos from the camps on our Facebook and Instagram pages. It's a great way for parents and friends to see the progress made during the camp.
For any further information or queries, please feel free to contact us at paddlecamps@richmondcanoe.club. Please also refer to our FAQs and T&C pages for full information.
See the 2023 paddle camp page here. 
Join us at Richmond Canoe Club's Paddle Camps for an unforgettable experience!